2011 Microlite DXPedition to the South Orkneys

2011 Microlite DXPedition to the South Orkneys.
DOPO LE SFORTUNATE  VICENDE ACCADUTE AL TEAM DI DX0DX DI SPRATLY ISLANDS  ED IL RINVIO DELLA SPEDIZIONE,  ECCO AFFACCIARSI UNA NUOVA  SPEDIZIONE DI TUTTO RISPETTO NEL PANORAMA DEGLI INCALLITI  CACCIATORI DX .
VP8ORK



DAL 27  GENNAIO  ALL'  8 DI FEBBRAIO 2011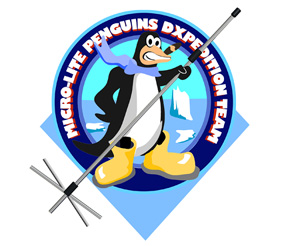 TUTTI PRONTI PER CERCARE DI POTER COLLEGARE  LE ISOLE ORCADI DEL SUD,   NELL'  OCEANO ATLANTICO , A "DUE PASSI " DALL'ANTARTIDE E DEL SUD AMERICA .
IL TEAM  E' COMPOSTO DA 13 RADIOAMATORI CON GRANDISSIME ESPERIENZE IN ALTRE IMPORTANTI SPEDIZIONI E SONO SICURO NON DELUDERA' LE ASPETTATIVE DI QUANTI NON HANNO LE SUD ORCADI NEL PROPRIO CARNIERE. SUL SITO DELLA SPEDIZIONE, COME SEMPRE PER QUESTI GRANDI EVENTI, VI SONO TUTTE LE INFORMAZIONI. I COMPONENTI DELLA SPEDIZIONE, RADIO,ANTENNE, LE BANDE ED I MODI DI EMISSIONE, ORARI, ATTREZZATURE VARIE, SPONSOR, DATI, QSL E MOLTISSIMO ALTRO ANCORA.
NON CI RESTA CHE ASPETTARE L'INIZIO DELLE DANZE, ED AUGURARVI OTTIMI DX CON VP8O !!   73  GIUSEPPE